KIT WATKINS with Forrest Young, Bill Smith, Greg Moreau ~

Field of View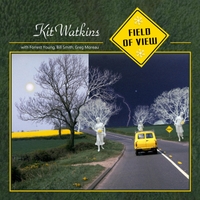 Kit Watkins had a brief tenure with Camel around 1979 to 1981 (writing and playing on
I Can See Your House From Here
, and going on a tour or two with them), prior to which he was in a band named Happy the Man, and post which he's released a respectable number of solo albums. He replaced Pete Bardens in Camel, on keys, however, aside from his mastery of those, he is also a synthesizer guru, not least when it comes to windy type sounds. Happy the Man was a prog band and I think his debut solo was of the prog persuasion too, but I haven't been able to find it to listen to. I did listen to Happy the Man's
Crafty Hands
and will probably do so again as the listen was cursory.
This latest album is most definitely not prog (which is why it's here - still a bit confused about where it actually belongs!) - a promo blurb on the FB page for the album states
"The 30th solo album of music by multi-instrumentalist, Kit Watkins … Field of View, finds common ground for he worlds of ambient, prog, fusion and world music to mingle!"
… and that's exactly what it does.
https://www.facebook.com/vesselruse
In addition to Watkins' keys, bass, percussion, vocals and wind synth, he's enlisted Forrest Young (who acquired himself the title of The Emergency Drummer), Bill Smith who not only drums but is a dab hand at singing bowls and gongs and all kinds of otherworldly instruments, and Greg Moreau who plays the EBow on one track, "Paradoxicon".  
There is only one vocal track, the rest are instrumental, and that vocal track is none other than a cover of Camel's
Spirit of the Water
(from
Moonmadness
), which is what led me down this particular rabbit hole to begin with. While I am accepting of covers in some instances, I am sceptical in many others and immediately felt my hackles rise at the very thought. Turns out that it's tastefully and respectfully done … phew … I also felt drawn to the title track and "The Vessel Ruse". Not going to be everyone's cuppa tea, but I think I might try out some of his other stuff too.
The Vessel Ruse -
https://www.youtube.com/watch?v=08EM2o5SPro
The title track -
https://www.youtube.com/watch?v=qUFEvb_XrPg
"Spirit of the Water" - written by Peter Bardens ... 
"The surest sign that intelligent life exists elsewhere in the universe is that it has never tried to contact us." ~
Bill Watterson