VANGELIS ~

Nocturne: The Piano Album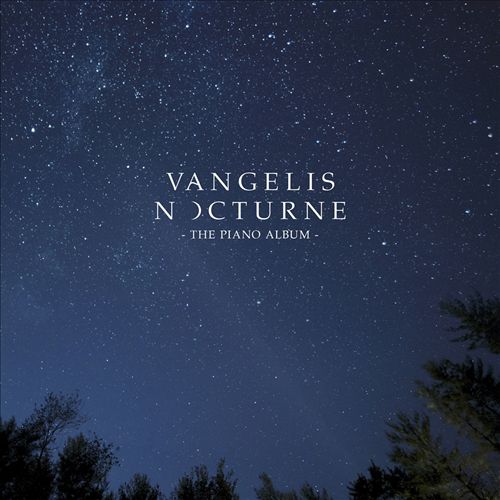 What can I say? This is Vangelis' ode to the night sky and by association, outer space, and by further association whatever else takes his fancy, which is fair enough! It is a simply beautiful listen and I mean that in the exact sense of the word. I wasn't expecting to be enchanted by the theme from "Chariots of Fire", for example, but what a sensitive touch and interpretation – fascinating - I love it. This is an album of gourmet musical deliciousness without being too slick and overly sentimental; he doesn't get all frilly and gymnastic on the keys (with the exception of one or two tastefully placed trills) – just plays with heart and grace. 
It's not actually solo piano as has been bandied about – there is synth orchestration backing up the gorgeous grand, one wholly synthesized track, and Irina Valentinova-Karpouchina plays the piano on Movement 9 from
Mythodea
– stunning piece of work. Altogether quite magical, IMHO. 
Track listing (six of the seventeen are new arrangements of tracks from previous works – the rest are brand new):-
Nocturnal Promenade 

To The Unknown Man (new arrangement - from

Spiral

)

Movement 9 (new arrangement - from

Mythodea

) - https://www.youtube.com/watch?v=NGdlMuxVwjo

Moonlight Reflections 

Through The Night Mist 

Early Years 

Love Theme (new arrangement - from

Blade Runner

)

Sweet Nostalgia 

Intermezzo 

To A Friend 

La Petite Fille De La Mer (new arrangement - from

L'Apocalypse Des Animaux

)

Longing - https://www.youtube.com/watch?v=C7xl_vvW3aE (not from

Blade Runner

as per mistaken uploader)

Chariots of Fire (new arrangement) - https://www.youtube.com/watch?v=BKQjd9lK2ao

Unfulfilled Desire 

Lonesome 

1492: Conquest of Paradise (new arrangement)

Pour Melia 





"The surest sign that intelligent life exists elsewhere in the universe is that it has never tried to contact us." ~
Bill Watterson