IDAN RAICHEL ~

And If You Will Come To Me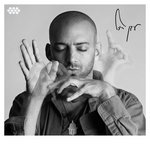 Don't understand a single word but for some reason, his music has always just spoken to me. Raichel usually works with a collective, or at least a few guest artists and this album is no different. It's 'solo', so not his Idan Raichel Project although they DO appear reunited on one track. 
I suppose one would call this world music, sung mostly in Hebrew – his albums are always beautifully put together and are right up to date but there's still something ancient in the sounds of the instruments, and perhaps the language, that takes me to another place. Unlikely to hold much appeal for too many outside the Hebrew speaking world I would imagine … I think I can get along with this one, but my favourite album remains
Within My Walls
…
This is from his bandcamp page -
https://store.cumbancha.com/album/and-if...me-to-me-2
"And If You Will Come to Me" reflects the next phase in a personal journey that began nearly three years ago when he put his 14-piece supergroup The Idan Raichel Project on hiatus and began performing more intimate solo and small ensemble concerts.

Along with guest musicians from Japan, Bulgaria, Ethiopia, Cuba and India, "And If You Will Come to Me" features duets with African guitar wizard Bombino, Cuban GRAMMY nominee Danay Suarez, Israeli stars Berry Sakharof and Zehava Ben, and a special new studio track with the reunited Idan Raichel Project. 
The album's title track ("Ve'Eem Tavo'ee Elay" in Hebrew) has already become one of Idan's biggest hits ever in Israel, with nearly 18 million streams on YouTube alone, and the singles from the album have racked up a total of 35 million YouTube plays. Idan will be supporting the release of "And If You Will Come to Me" with four arena shows in Tel Aviv followed by an extensive international tour in March 2019 that will see him performing in the USA, the UK, France, Germany, the Netherlands, Austria, Spain, Italy, Switzerland, Sweden and more. 
The release of "And If You Will Come to Me" marks a new stage in Idan's ongoing personal and artistic journey, but it also reflects a rediscovery of his original inspirations. "We always want to evolve and search for new things," reflects Idan, "Sometimes you need to travel far away just to come back to the beginning." In the end, no matter how far he wanders, Idan always returns to the eternal themes that have long been at the core of his work. "We can talk with many metaphors in many subjects and themes, but at the end of the day, write about longing, write about love, write about home, and you just look at it from a different perspective. That's the whole story."
The album on Spotify
https://open.spotify.com/album/6obaUCtgtwPNa8KqWcjJ8T
The closing track – a piano version of the single and title track which he released some time back … I prefer the piano version to the alternative … 
"The surest sign that intelligent life exists elsewhere in the universe is that it has never tried to contact us." ~
Bill Watterson